FSC certificate
At ToM-PaR, we are aware of the importance of ecology and protecting the resources of natural forests. That is why we are filled with joy and pride by the FSC CoC Certificate obtained as a producer of wood and paper products. We treat it as proof of the proper origin of our natural materials and a guarantee that they come from forests managed in a responsible manner.
The FSC certificate is an organization dealing with the certification of forests and wood and paper products. Compliance with FSC guidelines enables timber harvesting while maintaining the viability of forests and their biological richness. The FSC system is currently recognized as one of the most reliable among the existing forest resource certification systems and is the only system supported by major environmental organizations.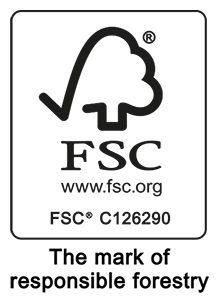 The FSC CoC certificate is based on the chain of product origin control. This means that in order for the final product to be sold as certified, FSC rules and standards must be observed at every stage of raw material acquisition and processing. Only then is it possible to mark the final product with an FSC label.